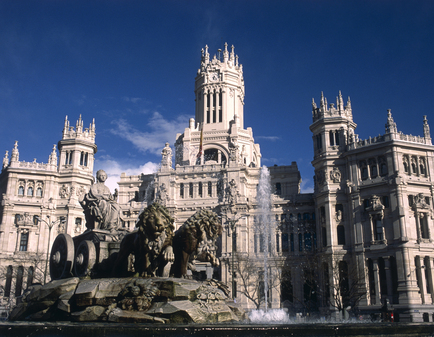 Hola, buenas tardes! (Hello, good afternoon!)
My name is Yarah, and I am a junior/senior here at USF majoring in health sciences.  This summer I am taking a dream trip to Spain to study abroad!  I knew that the thing I wanted most out of college was to study abroad, and I am so excited to finally get the chance to do it.
I am from Puerto Rico, so I speak and understand Spanish well, but I really want to immerse myself into this trip in order to perfect it.  Also, I plan on taking a medical terminology class that is taught in Spanish, which will not only help me with the language but for the future since I plan to work in the medical field.  During my time in Spain, I will spend two weeks in Malaga, four weeks in Madrid and then a final three day getaway to Paris, France.  I have been to Barcelona briefly once before and am very excited to see other parts of Spain.  Though I have never studied abroad before, I have created a list of tips that I feel have helped me in previous travels, as well as in preparing for this trip:
---
1. Start Early
The sooner you decide where you want to study abroad, the better off you'll be.  I always knew I wanted this experience, and so I began looking into programs about a year before my program started.  The sooner you start the easier it is to plan for money saving, how it will work into your degree, as well as access to scholarships and ways of funding.
2. Do Research
Not only do you want to research different programs, but take into account what is happening in the country/countries you want to travel to.  You want to make sure you are going somewhere that is safe for international students, as well as being aware and understanding of the culture.  It is also smart to know what language is being spoken in the country, and try to get to know some of the basic lingo.
3. Set Up A Plan
Once you have decided on where to study, you should start planning right away. Make sure to know how the credits you're taking will apply to your agree, as well as knowing how to plan out the rest of your studies.  Another thing to plan out is your funding.  Set out a budget for your trip (which I recommend to be above program price, for extra spending money) and begin to pay it off little by little.
4. Get Paperwork in Order
Make sure to get a passport (if needed) as soon as you can.  Passports can take up to 6-8 weeks to receive and so it's important to have it on time.  Also, you are going to want to make plenty copies to have while over there.
5. Watch Your Money
One of the first things you should do after deciding on a program/country is calling your bank and advising them on what days you will be there.  This will help prevent any problems you might face using your credit/debit card overseas.  Another thing is to understand the currency in your country, as well as keeping a good amount of cash with you just in case.  You should take out cash before getting to the country to avoid using ATMs, especially if located in sketchy places.
6. Travel Light
Make sure to pack comfortable clothes and shoes, as well as avoiding over-packing.  Bring clothes that you can mix and match and shoes that you can handle wearing for long periods of time.  Also, make sure to leave any type of flashy jewelry or accessories that would call out the wrong attention.  You want to make sure you blend into the culture as best as possible.
These are the main tips I think everyone should know when traveling.  I will write again when it's closer to my departing date.   Thank you to anyone who reads and keeps up with my travel 🙂 xx.
Click here to learn more about USF in Spain and how to apply!